Fiona is based in the Netherlands, where she freelances with a variety of ensembles. She studied with Ilya Grubert and Maria Milstein at the Conservatorium van Amsterdam and with Jan Repko at the Royal College of Music, London. She has performed at venues and festivals throughout the UK and the Netherlands, including the Wigmore Hall and St.-Martin-in-the-Fields.
Fiona has appeared as soloist with the Glasgow Chamber Orchestra, the Scottish Festival Orchestra and Chetham's Symphony Orchestra, performing the Sibelius, Berg and Bruch concertos. Recent engagements have included recitals at the Muziekkamer in Zaandam and the Papageno Huis in Laren with pianist Jaap Kooi. She regularly performs with the BBC Scottish Symphony Orchestra, the Nederlands Philharmonisch Orkest, Shapeshift Ensemble, AKOM Ensemble and Philharmonia Amsterdam.
Fiona has a special interest in contemporary music and has performed works by Louis Andriessen, Maxim Shalygin, Salvatore Sciarrino, Edith Canat de Chizy and Boris Bezemer. In 2014 she recorded a set of solo violin pieces called 'SPOTS' by the Italian composer, Simone Fontanelli and in 2015, she was the winner of the inaugural Contemporary Music Competition at the Royal College of Music.
She has appeared in masterclasses with Alina Ibragimova, Christoph Richter, Pavel Fischer and members of the Chilingirian, Ysaye and Smith quartets.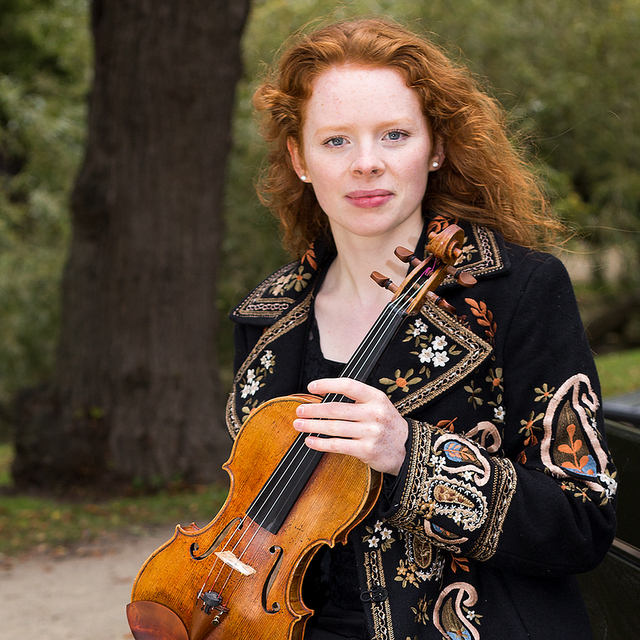 © Karin Luhrs
Concerten met Fiona Robertson:
Persoonlijke website