Ella van Poucke, born in Amsterdam in 1994, is one of the leading cellists of her generation.
In July 2017 Dutch cellist Ella van Poucke won the prestigious Premio Chigiana, she is the first prize winner of the International Isang Yun cello competition 2015, the Leopoldinum Award 2015, Prix Nicolas Firmenich 2013, Elisabeth Everts Award 2014, Prix Academie Maurice Ravel 2012, Dutch Musician of the Year 2012, first prize winner of the 2008 Princess Christina Competition and recipient of the special prize in recognition of an outstanding performance at the Grand Prix Emanuel Feuermann 2014.
After making her debut at the Concertgebouw at the age of 10 she has been performing in all the major halls of the Netherlands, in many top halls in Europe and in the USA and Asia.
As a soloist Ella has performed with the Netherlands Philharmonic Orchestra, HR-Sinfonie Orchester, Brussels Philharmonic, Rotterdam Philharmonic Strings, Orchestre della Toscana, Varsovia Chamber Orchestra, Polish Chamber Orchestra, Leopoldinum Chamber Orchestra, Junge Sinfonie Berlin, Hamburger Camerata, Tongyeong Festival Orchestra and collaborated with artists as Michael Sanderling and Christoph Eschenbach among others.
In November 2012 she premiered a new cello concerto, which was written for her by the Finnish composer Uljas Pulkkis during the International Cello Biennale in Amsterdam.
In September 2013 she premiered the same work in Germany at the Kronberg Festival, with members of the HR-Sinfonie Orchester Frankfurt.
Ella regularly appears on Dutch Radio and Television and has performed for ARTE TV in Germany and France. She appeared in Germany's Stars von Morgen, hosted by Rolando Villazon.
As a passionate chamber musician Ella has performed with Andras Schiff, Gary Hoffman, Nobuko Imai, Tabea Zimmermann, Christian Tetzlaff, Viviane Hagner, Lawrence Power, Gidon Kremer, Colin Carr, Matthias Schorn, Andreas Reiner, Vilde Frang, Simone Lamsma, Christiaan Bor, Philippe Graffin, Prazak Quartet, Kelemenn Quartet, Schumann Quartett among many others.
She regularly performs in recital with pianist Jean-Claude Vanden Eynden and with her brother, pianist Nicolas van Poucke.
She has been guest in numerous international festivals such as Festspiele Mecklenburg Vorpommern, West Cork Chamber Music Festival, Music@Menlo, Krzyzowa Music, Chigiana International Festival, Kaposfest Hungary, Internationaal Kamermuziek Festival Utrecht, Grachten Festival Amsterdam, Kronberg Festival, Cello Biennale Amsterdam and was invited to participate in Verbier Festival Academy in 2009, 2013 and 2014.
She is a regular member of the Amsterdam Chamber Music Society and is the artistic director of the Chamber Music Festival Amsterdam which she and her brother, pianist Nicolas, founded in 2010.
As a Dutch rising star Ella was invited to give two Carte Blanche concerts in the Concertgebouw in Amsterdam in 2013-14.
Highlights from her future engagements include solo appearances with the Dutch National Youth Orchestra, Maggio Musicale Fiorentino, Orchestre della Toscane, Württembergisches Kammerorchester Heilbronn.
In August 2017 Ella will be Young Artist in Residence of the NJO (Dutch National Youth Orchestra).
Born into a family of musicians, Ella began playing the cello at the age of 6, entered the Royal Conservatory of The Hague at the age of 10 and later continued her studies at the Conservatory of Amsterdam with Godfried Hoogeveen.
She has taken masterclasses and worked with Andras Schiff, Miklos Perenyi, Daniel Barenboim, Christoph Eschenbach, Yuri Bashmet, Gidon Kremer, Steven Isserlis, Menahem Pressler, Mauricio Fuks, Laurence Lesser, Anner Bijlsma, Bernard Greenhouse, Mischa Maisky, the Emerson Quartet among others.
From 2009-2016 Ella studied with Professor Frans Helmerson at the Kronberg Academy Masters in Germany. Her studies were funded by the von Opel/Schaefer Stipendium.
From the fall of 2016 Ella is an artist in residence at the Queen Elisabeth Music Chapel in Brussels, where she studies with Gary Hoffman.
She plays on a Rombouts cello, kindly lent to her by an anonymous benefactor.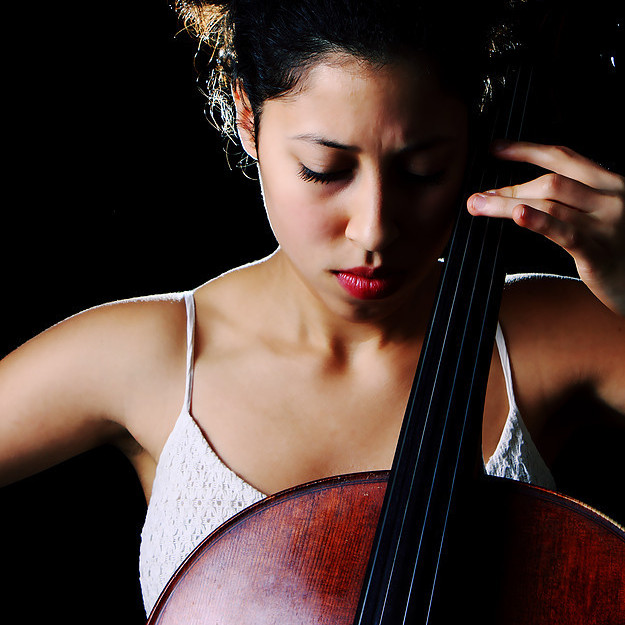 © Presnyakov Music Productions
Concerten met Ella van Poucke:
Persoonlijke website